The 2021 tournament season kicked off with the participation of 12 teams and a total of 35 lady anglers in the first of three events comprising the 3rd Annual Ladies Only Tournament presented jointly by Chantilly Air and Los Sueños Resort and Marina. The ladies fished on Tuesday, January 19th and released a total of 160 billfish (159 sails and 1 marlin). It was Fish Tank that placed first this time around with 20 sailfish releases for 2,000 points, followed by Max Bet with 14 sails and 1 marlin for 1,900 points, and D.A. Sea finished third with 18 sails and 1,800 points. All 12 teams are registered in the three individual events that make up the 2021 Ladies Only Tournament. The points from Leg 1 will be tallied with those earned in Legs 2 (February 23rd) and 3 (March 16th) in order to determine the first, second, and third place teams going on to win their portion of the $32,500 cash prize.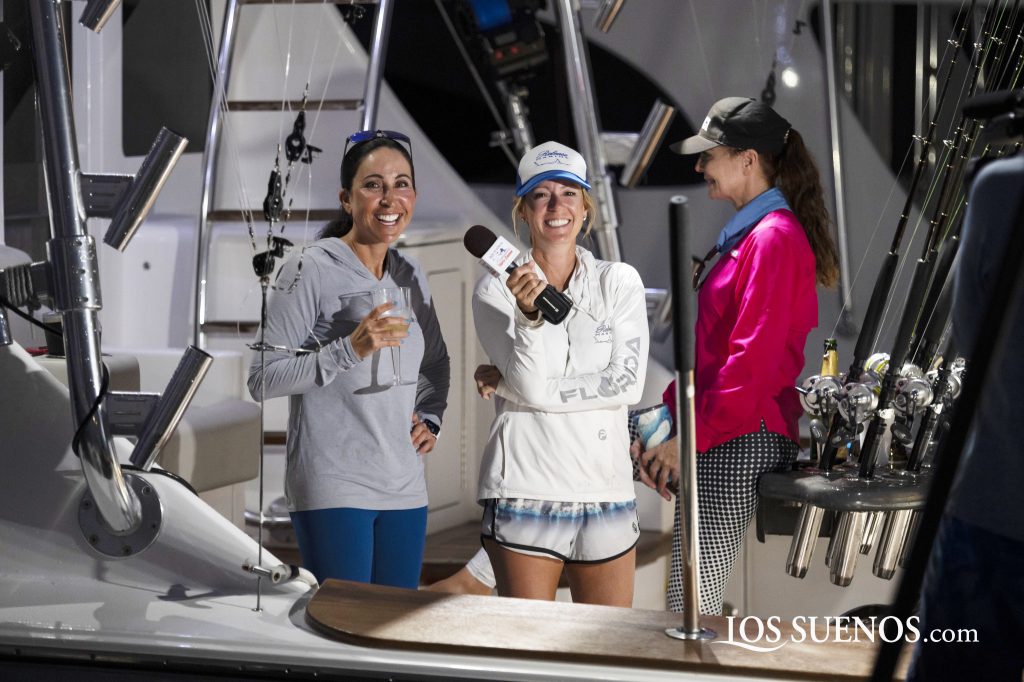 Immediately following the Ladies Only was Leg 1 of the 2021 Signature Triple Crown, presented by Chantilly Air and Los Sueños Resort and Marina. The event began with its first ever virtual tournament meeting by Zoom on Wednesday night, attended by representatives from each of the 38 participating teams comprised of 182 competing anglers, as well as the captains and observers. After three days on the water the teams released 953 sails and 48 marlin for a total of 1,001 billfish, translating to over 26 fish per boat.
DAY 1 started as always with lines in at 8:00 am. It was Huntress with the first fish of the tournament just 3 minutes later. By 10:00 am 113 billfish had been released and Fish Tank was already on top with 700 points (on time), over Agitator and Grand Slam, each also with 700 points. By noon Grand Slam had already taken an early 300 point lead over Agitator, earning 1,400 points after releasing a double at 10:41 am, followed by another sail 4 minutes later, another at 11:05 am, and two more by 11:58 pm. Agitator was in second on time with 1,100 points over D.A. Sea, also with 1,100 points. By 2:00 pm the teams had released a total of 243 billfish (239 sails, 4 marlin) and Grand Slam had widened their lead to 700 points, in first with 2,100 points, over Agitator with 1,400 points, followed by Team Galati with 1,100 points. Eight Eights released their eighth fish at 2:01 pm for a fun call in to tournament control. By the end of the day Grand Slam had secured a 1,000 point – or to put it another way, a 2 marlin or 10 sailfish lead – over Agitator. Grand Slam went to bed with 2,800 points (23 sails, 1 marlin), while Agitator dreamt of their 18 sails for 1,800 points, and Max Bet relived the marlin that gave them 1,500 points (10 sails, 1 marlin) and third place for the day. The fleet released 320 sails and 6 marlin for 326 billfish on Day 1. It shouldn't go without saying that Sea Fix released the last fish of the day, a marlin, at 4:56 pm catapulting them from eighteenth to fourth.
Fish #327 was called in by Mama Seata at 8:06 am on DAY 2. By 10:00 am the teams had released 86 sails and 4 marlin – one each for Team Lunatico on Mako, Valhalla, Reel Joy, and First Light – for a total of 416 billfish releases overall. Grand Slam had a slower morning, only releasing one sail and bringing them to 2,900 points, followed by Agitator with 1,900 points, and Team Galati in third also with 1,900 points. Numero Uno, in last place after Day 1, had a phenomenal morning, plucking one sailfish after another and releasing two marlin within 17 minutes of each other to move from twentieth position to eighth overall by 11:34 am and first for Day 2 only. At noon the leaderboard still showed Grand Slam in first with 3,200 points, followed by Sea Fix with 2,500 points, and Goose in third with 2,300 points. Goose moved to second with a double header at 12:37 pm, but was bumped by Fish Tank with a marlin release at 1:20 pm. Numero Uno moved up to third at 2:08 pm with a double sailfish release, was bested by a Team Galati marlin release at 3:09 pm, and then fought back with yet another double at 3:16 pm to retake third place. There couldn't have been a more exciting finish to Day 2, with Salemwolf releasing a double at 3:59 pm, and seven fish still on the lines, including a double for Southern Pride and a triple for Grand Slam. After all 357 billfish (339 sails, 18 marlin) were released and the points confirmed, Grand Slam finished in first with 4,500 points (40 sails, 1 marlin), Goose in second with 3,600 points (36 sails), and Numero Uno with the strongest comeback in Triple Crown history, in third with 3,000 points (15 sails, 3 marlin).
Four minutes after lines in on DAY 3, Pura Vida called the first sailfish release. At 9:03 am Goose released a sail to take over third position on the leaderboard. Fish Tank moved to second with a marlin release at 9:19 am and Grand Slam had what seemed an unshakeable lead with 5,200 points by 9:56 am when they released a marlin. By noon things had shifted yet again, with Grand Slam 300 points up for 5,500 points, over Fish Tank in second with 4,500 points, and Team Galati in third with 4,200 points. The marlin were out to make a difference and Fish Tank decided to say "hello" to them, releasing all four of their marlin for the day by 12:05 pm. They shored up their marlin with three sails for the day, securing a second place finish overall. Sea Fix moved from their fourth place position to third with a marlin release at 3:01 pm. Mama Seata ended the tournament off beautifully with a marlin release at 4:05 pm. Although Fish Tank tried hard to close the gap on Grand Slam's early lead, Grand Slam still finished 700 points ahead, with 5,900 points (49 sails, 2 marlin). Fish Tank finished in second with 22 sails and 6 marlin for a three-day total of 5,200 points, and Sea Fix came in third with 4,700 points after releasing 27 sails and 4 marlin.
FOR TRIPLE CROWN LEG 1 PHOTOS CLICK HERE
FOR LADIES ONLY LEG 1 PHOTOS CLICK HERE
Photo Credits: "©Los Sueños Resort and Marina | Photographers: Pepper Ailor or Ronald Rojas"
SIGNATURE TRIPLE CROWN WINNER'S CIRCLE
Thank you to Gray Taxidermy for the beautiful trophies, Cabo Unico for the gorgeous personalized bottles (they are really so much more than "bottles") of Mexican tequila, Flor de Caña for the tasty bottles of rum, Costa for the sunglasses for each of the winning anglers, and Steve Goione for this year's tournament art. Your prizes add to the enjoyment of a leaderboard finish.
1ST PLACE: GRAND SLAM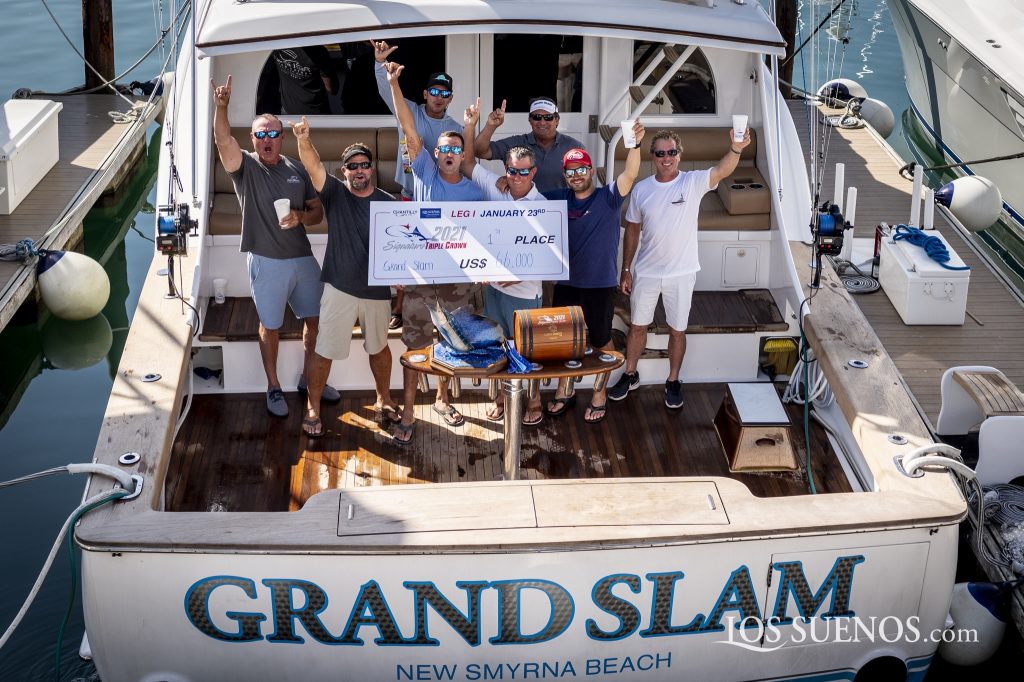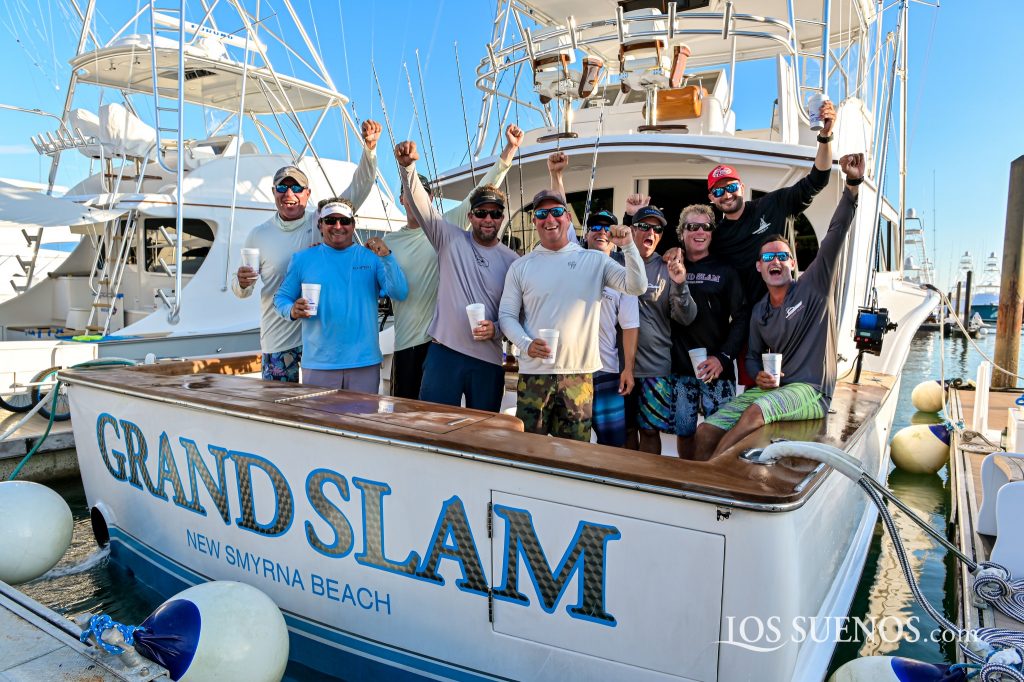 2ND PLACE: FISH TANK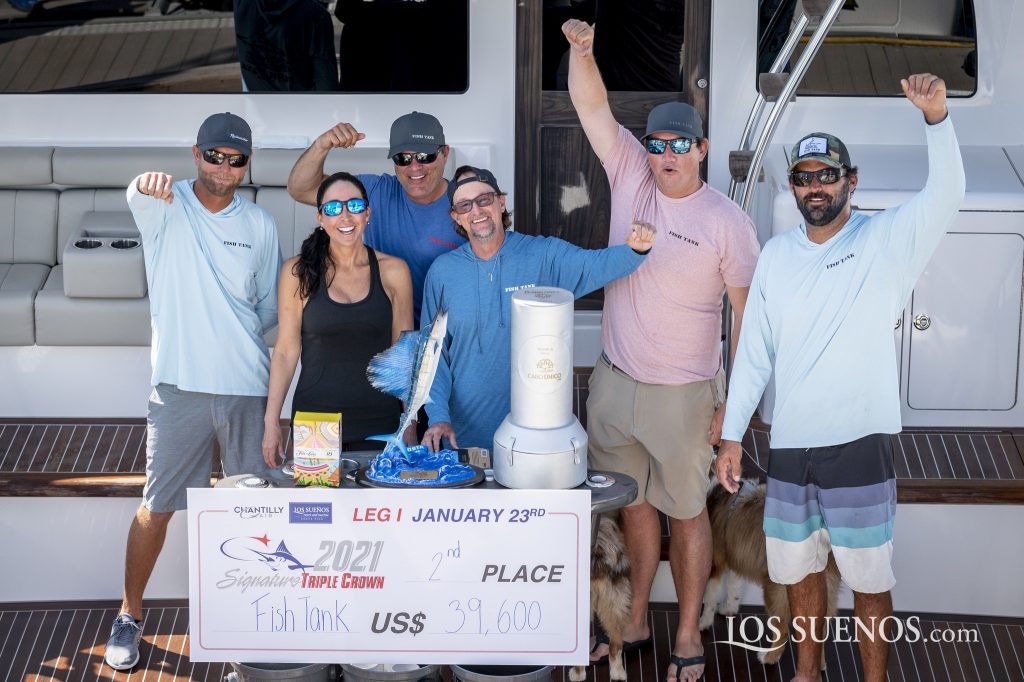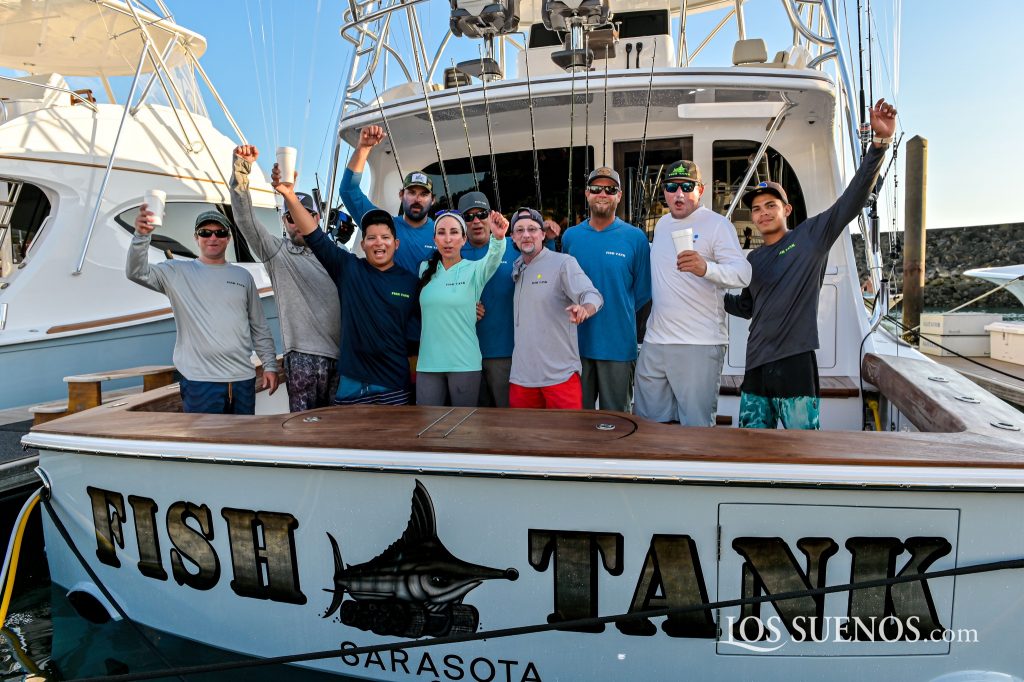 TOP ANGLER: FRAN JOHNSON, JR. SEA FIX
Fran Johnson, Jr. was the top non-professional angler this leg, releasing 9 sails and 2 marlin for 1,900 individual points.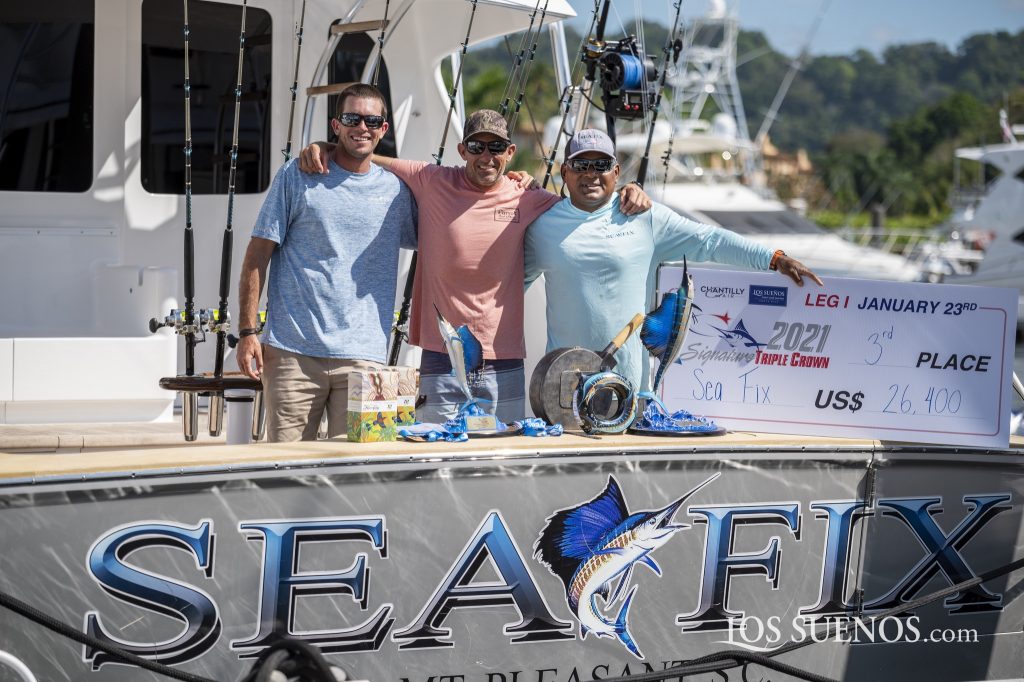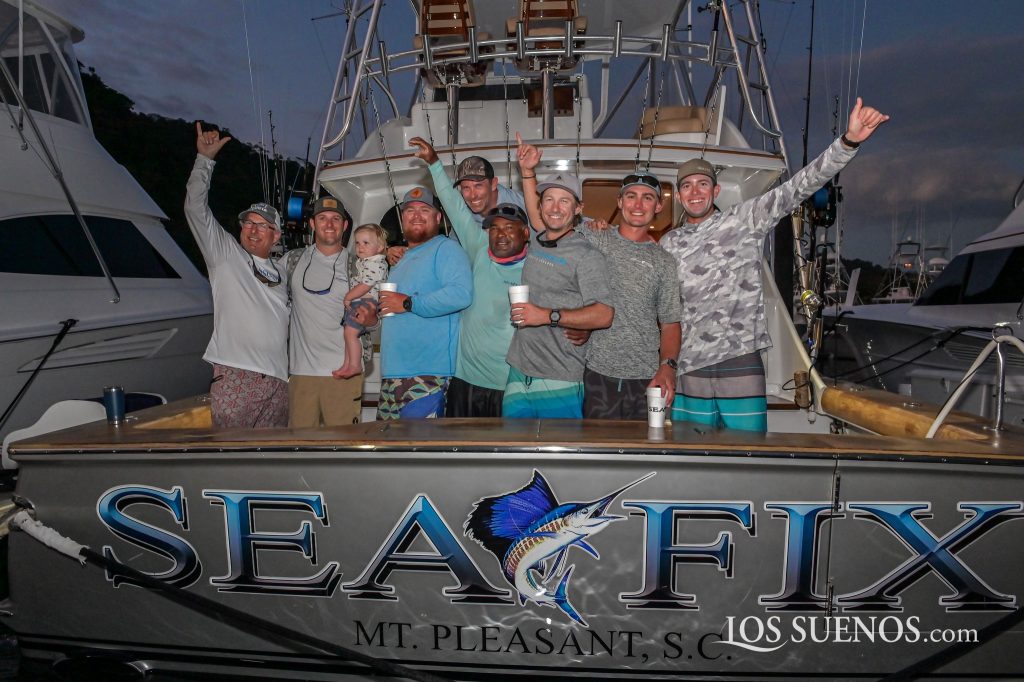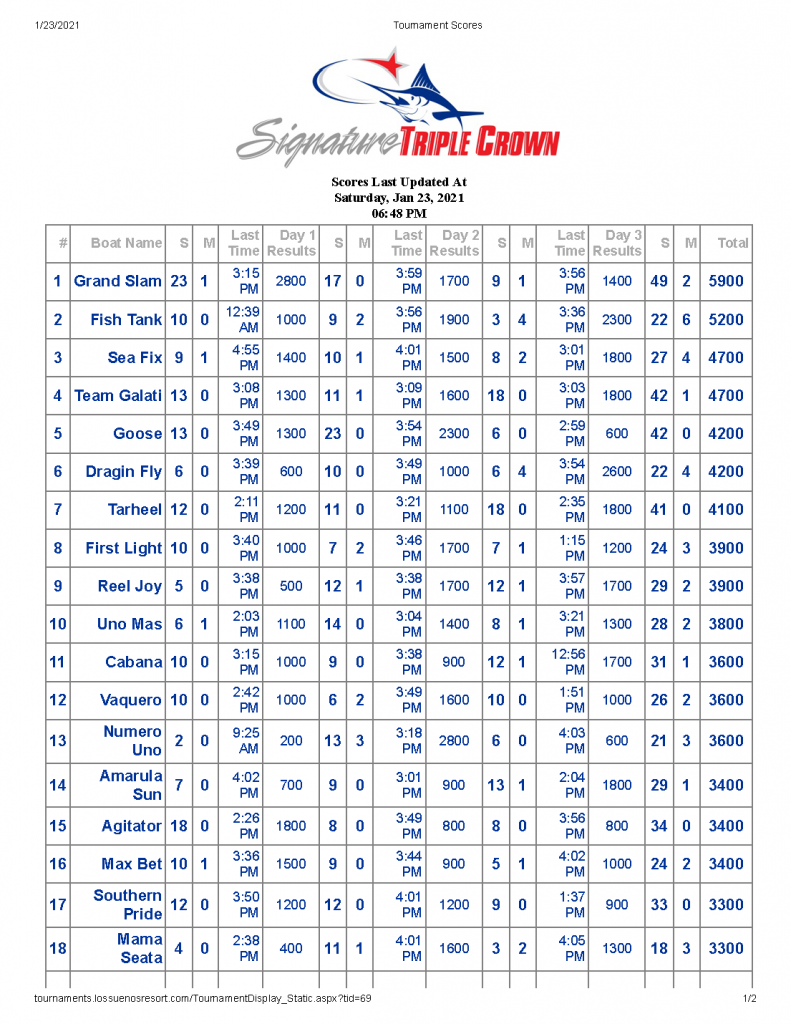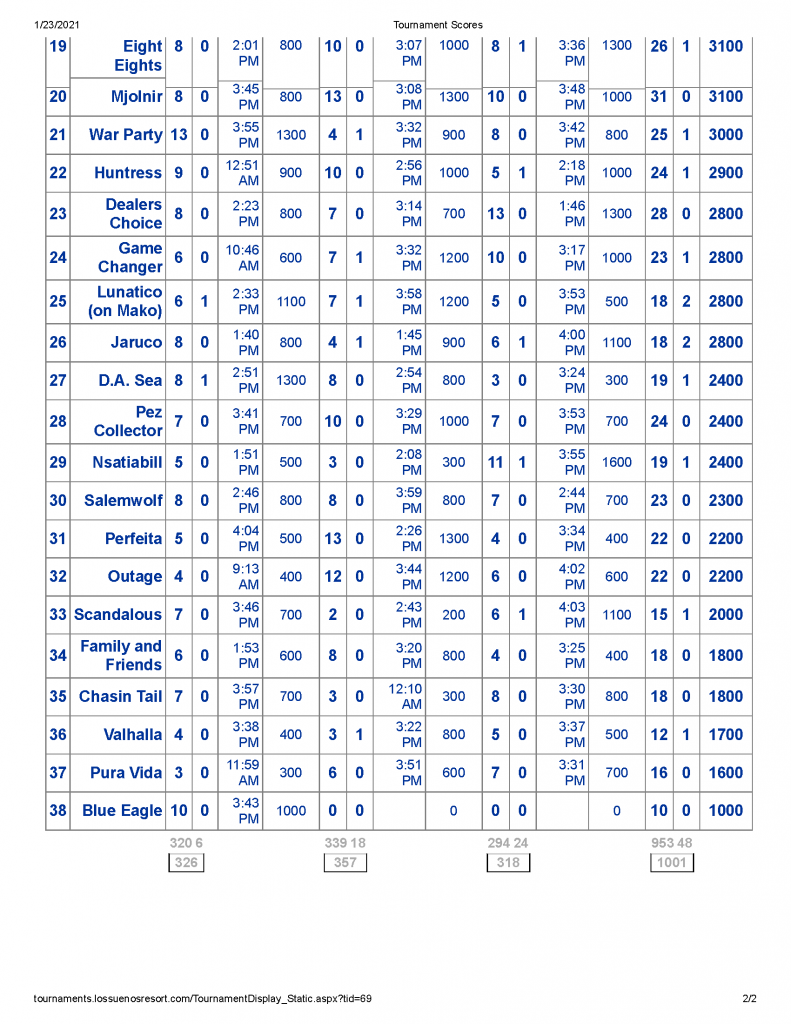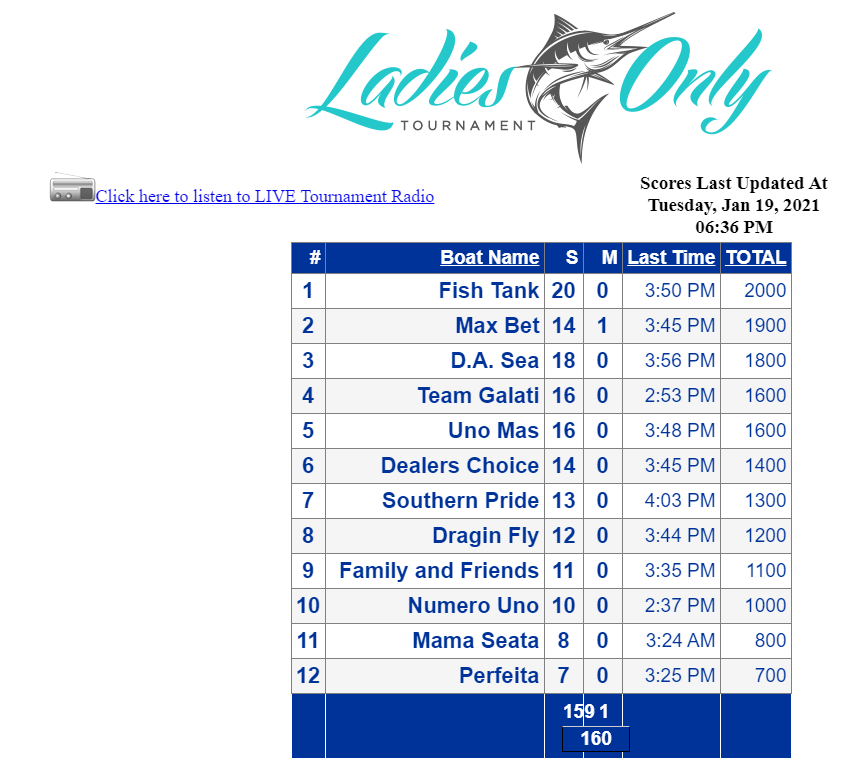 2021 TOURNAMENT DATES
January: Ladies Only 19th, Triple Crown 20-23
NEXT February: Ladies Only 23rd, Triple Crown 24-27
March: Ladies Only 16th, Triple Crown 17-20