2022 SIGNATURE TRIPLE CROWN & LADIES ONLY
LEG 1

Dealer's Choice, a 58′ Viking based out of Los Sueños Marina, owned by Frank Bongiorno and captained by Scott Jones took first for the first leg of the 2022 Ladies Only Tournament with anglers Danielle Livia Bongiorno, Stacy Winstead, Danielle Orzech, and Nicole Paul-Hus. 5 sails and 4 marlin for 2,500 points.

Thirty-nine lady anglers on 13 teams signed up to compete in the second annual Ladies Only Triple Crown Tournament, vying for $32,500 in cash and other prizes. The ladies will fish the Tuesday before each leg of the 2022 Signature Triple Crown to determine the top three teams over all three days, which will be awarded at the final awards banquet on Saturday, April 2nd. The Ladies Only Tournament is a test of skill, requiring a fight between the angler and the fish just like the Signature Triple Crown. No hook and hand for these powerful fisherwomen!The teams headed out to the fishing grounds around 5:45 am on Tuesday morning. It was D.A. Sea to call in the first fish of the tournament, a marlin, at 8:04 am and by 10 am Billfisher's star angler, Judy Duffie, had achieved 1300 points for their team, followed by D.A. Sea with 1100 points, and Dealer's Choice with 1000 points.

Dealer's Choice moved to second with a marlin at 10:21 am and then to first with another marlin at 11:00 am, but Billfisher came back with a marlin at 11:58 am. Team Galati, known for coming up from behind moved to third with a sailfish release at 12:56 pm. By 1 pm the teams had released a combined total of 53 billfish. Dealer's Choice overtook top spot at 2:30 pm with a double sailfish release taking them to 2500 points (5 sails and 4 marlin), followed by Billfisher with 2400 points (4 sails and 4 marlin) and Fish Tank rounding out the leaderboard with 2100 points, where they stayed until Galati once again moved up the ladder, taking third on time with two sailfish releases between 3:48 pm and 3:55 pm, bringing them to 2400 points, and 200 points ahead of Max Bet who ended in fourth place with 7 sails and 3 marlin for 2200 points. Fish Tank finished in fifth with 2200 points after releasing 2 sails and 4 marlin.All told the lady anglers released 57 sails and 32 marlin for 89 billfish over the eight hours of competition.

One hundred and eighty anglers signed up to participate on 37 teams for the first leg of the 2022 Signature Triple Crown, presented by Chantilly Air and Los Sueños Resort and Marina. The tournament kicked off with registration on January 26th, followed by the official Tournament Meeting held virtually by Zoom at 5:00 pm on Wednesday afternoon. The teams fished Thursday, Friday, and Saturday to determine the top three teams as well as the top angler for Leg 1.

Nsatiabill started DAY 1 off right with a marlin hook up at 8:04 am, which they went on to release just two minutes later. Pez Collector took an early lead with two sails and two marlin by 8:44 am, followed by Nsatiabill, and Vaquero moved to third at 9:03 am with a marlin release. Ohana moved to first after releasing fish #59, a marlin, at 9:11 am. Miss Victoria, whose captain Brian Speedy hands down wins the prize for best radio voice, moved up to fourth at 9:22 am with a marlin release. As of 10 am Ohana was still in first with a commanding lead, with 2400 points, followed by Nsatibill in second with 1300 points, and Pez Collector in third with 1200 points. In the first two hours alone the teams released 71 sails and 18 marlin for a total of 89 billfish. Miss AC, Nsatiabill, First Light, Miss Victoria and Scandalous jostled the leaderboard between 10 am and noon, but as of midday Ohana was still in first with 2700 points now, Scandalous was in second with 1900 points, and Miss Victoria in third with 1800 points. Day 1 saw marlin after marlin, paying homage to Los Sueños' position as the Billfish Capital of the World. By the time the last fish, fittingly a marlin by Outage at 4:12 pm, a total of 209 sails and 71 marlin were released, for a total of 280 billfish. Vaquero finished the day in first achieving 3000 points with 5 sails and 5 marlin by 3:18 pm, followed by Ohana in second with 2800 points (8 sails and 4 marlin), and Miss AC in third with 2700 points (17 sails and 2 marlin).

DAY 2 started with a hook up at 8:03 am by Eight Eights, which turned out to be a sail released at 8:05 am. By 10 am the fleet had released 278 sails and 82 marlin overall and Vaquero was still in first with 3200 points, followed by Ohana with 2900 points, and Miss AC with 2800 points. Max Bet was in it to win it and moved to first at 11:02 am with a marlin release, bringing them to 3700 points, over Vaquero with 3400 points at the same time. By noon on Day 2 Max Bet was up to 3800 points for first, followed by Vaquero then with 3500 points, and Uno Mas was in third with 3200 points. By 4:02 pm when War Party released the last fish of the day, a marlin, the fleet had released an additional 205 sails and 42 marlin, for a two-day total of 414 sails and 113 marlin for 527 total billfish. Max Bet took the day with 2500 points after releasing 5 sails and 4 marlin, earning them first spot in the overall for Leg 1 with 4700 points (12 sails and 7 marlin), followed by Vaquero in second on time with 4100 points (11 sails and 6 marlin), and Miss AC in third also with 4100 points (21 sails and 4 marlin).

Gallo Pinto started DAY 3 with a sailfish release nine minutes after lines in at 8:00 am. Vaquero released fish #570 of the tournament precisely at 10:00 am, at which point Max Bet was in first with 4700 points, followed by Vaquero with 4300 points, and Miss AC with 4100 points. 280 billfish were released by 10:00 am Day 3 alone. Billfisher is a tough competitor and moved to second with a marlin release at 10:55 am, but was moved back to third just before noon with a marlin release by Miss AC at 11:58 am. As of noon the leaderboard had Miss AC on top with 5100 points, Max Bet in second with 4700 points, and Billfisher in third with 4700 points on time. The tournament couldn't have been more exciting on its final day, with the marlin making all the difference. At 3:45 pm Team Galati released a marlin, moving them from sixth place to second. Max Bet was skunked until 3:42 pm when they called in to tournament control to report a sailfish and marlin hook up, which they went on to release at 3:55 pm and 4:06 pm respectively, effectively moving them to third place with 5400 points (14 sails and 8 marlin) for the tournament! Team Galati finished second on time with 5400 points (29 sails and 5 marlin over three days), and Miss AC took top honors for Leg 1 with 5700 points after releasing 32 sails and 5 marlin.

FOR TRIPLE CROWN LEG 1 PHOTOS CLICK HERE
FOR LADIES ONLY LEG 1 PHOTOS CLICK HERE
Photo Credits: "©Los Sueños Resort and Marina | Photographers: Pepper Ailor or Ronald Rojas"

SIGNATURE TRIPLE CROWN WINNER'S CIRCLE
Thank you to Gray Taxidermy for the beautiful trophies, Cabo Unico for the gorgeous custom bottles of Mexican tequila, Flor de Caña for the tasty bottles of rum, Costa for the sunglasses for each of the winning anglers, and Steve Goione for this year's tournament art.

1ST PLACE: MISS AC




2ND PLACE: TEAM GALATI



3RD PLACE: MAX BET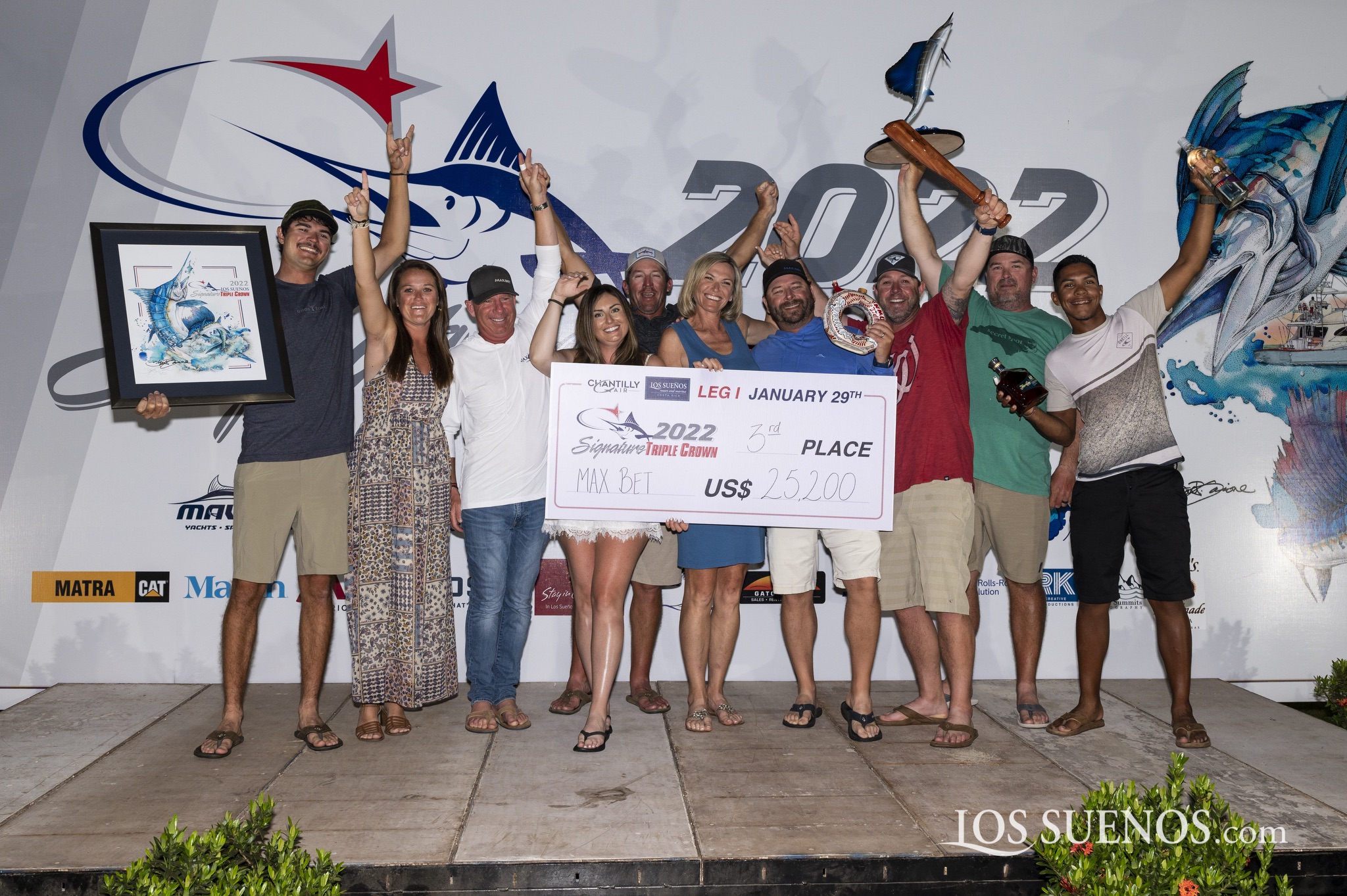 ENJOY THE DOCK SHOW PRODUCED BY RK CREATIVE
2022 TOURNAMENT DATES
NEXTLEG II February: Ladies Only 22nd, Triple Crown 23-26
LEG III March: Ladies Only 29th, Triple Crown 30Mar-2Apr